I've not been really happy with the Neopiko markers I've been using (which I got on closeout, just so I would have "something'), so recently I did a little research on other alcohol markers that are available. I can't afford Copics, though they seem to be the industry standard. Other brands had inconsistent reviews; another brand which I'd bought a couple samples of (Kurecolor) bled too much for my taste....

Then I started reading about Touch Twin markers. These are growing in popularity in Europe, and are the go-to marker for animators in Asia (they are made in Korea). Turns out Dick Blick has that particular line at a clearance price, so I decided to check them out. This is the standard marker below - it has a chisel tip, which can be used to produce a variety of widths, and a smaller bullet tip. They also produce a double-ended Brush marker.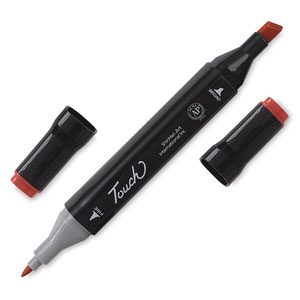 I love the coverage and was impressed with the structure of the markers overall. I don't have Copics to compare to, but to me these seem to be a very high quality marker. The packaging mentions that the nibs are replaceable, and that refill inks are available (still researching that information). If you're looking for a great value in a less expensive marker, I think the Touch markers are an excellent alternative, and other reviews seem consistent with that sentiment as well. My only complaint is that the lids on both ends look the same, so I have to search for the little nib icon each time... but maybe that's petty... ha!


Here's one image I got a chance to color in, though it hasn't made it to a card yet... this image is from a set from
For the Luv of Art
, which I won in a blog drawing recently. Gorgeous set! Anyway - the image was colored first with Touch markers on watercolor paper, then watercolored with reinkers using a water brush. Love that technique!
These are the colors that I used:
I'm looking forward to playing with these more! If you have questions please feel free to ask.