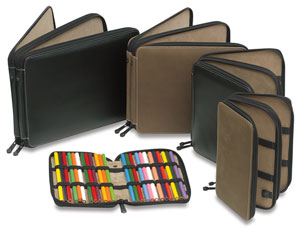 Now that the party's over, it's time to start packing and preparing for furlough...I mentioned the other day that when I don't know where to start I start with "my stuff" - so yesterday the thing that seemed important to do (LOL) was to organize my pencils. I normally keep my Prismacolor pencils in two of these cases from Dick Blick (one holds 120 and the other 96), so I thought I'd condense them to one and put my watercolor pencils in the other so they stay safe while we're home and traveling. That began with cataloging (sp?) the order I had them in originally...I can be really anal about having my colors in the right order...so that when we come back and I rearrange them again I can get them back in the right way.

I also took a look at the invoices for things I've been compiling at my in-laws' house - design team packet, stamp orders, Christmas presents, contest wins, ebay purchases (I tend to shop when I'm stressed or depressed as it gives me something to look forward to...)...apparently I've amassed quite a bulk of stuff! I don't think I've done more shopping than 'normal'...it's just that it's collecting and I'll get it all at once. I noticed too that there was one stamp on ebay (a retired stamp from Delafield Stamps) that I liked so much I bought it twice, not realizing. Whoops...

One more thing (I know, I know, but I had a gift certificate!) - check out these cute little carolers from Art Impressions! You can find them in a search for 'carolers', or do a search for 'limited' to see these and the other stamps they have brought back for a limited time.